China opens first museum on ancient book repairing
Source: Xinhua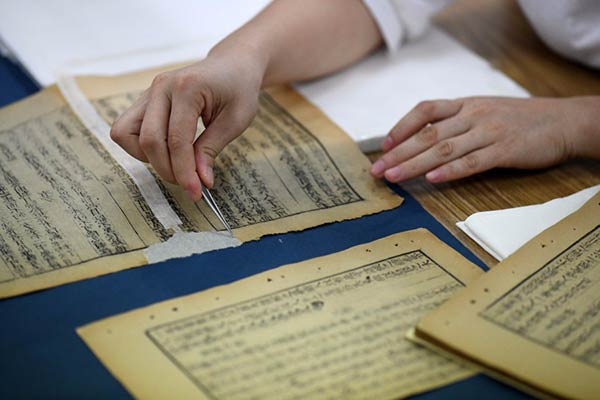 (Gao Huiyun restores an ancient book at a workshop in Shijiazhuang, capital of North China's Hebei province, Aug 2, 2018. Gao Huiyun is a teacher of cultural relics restoration and protection at Hebei Vocational Art College. Gao has restored over 1,000 ancient books in her 13-year career time.[Photo/Xinhua])
Southwest China's Sichuan province Thursday unveiled the signboard of China's first museum on antique book repairing, an endangered craft vital to the country's huge inventory of ancient texts.
The 1,100-square-meter museum in Chengdu, capital of Sichuan, displays 500 artifacts that allow the public to better understand the craft's complicated procedures and behold the works of accomplished restorers.
It also features a demonstration zone for visitors to view the process, which includes over 20 steps from making glue to bookbinding.
Peng Dequan, who initiated the founding of the museum, said China is under strain to salvage many ancient books and documents that suffer from mildew, moths and other forms of damage.
Many skilled restorers, however, are elderly without successors, which prompted him to open the museum to promote the craft.
In China, books written or printed before 1912 featuring classical book-binding styles are classified as antique books. It is estimated that China has about 50 million antique books, among which the foremost 20 million have been protected, leaving a daunting task for book repairers.