Over 1,000-year-old tomb found in NW China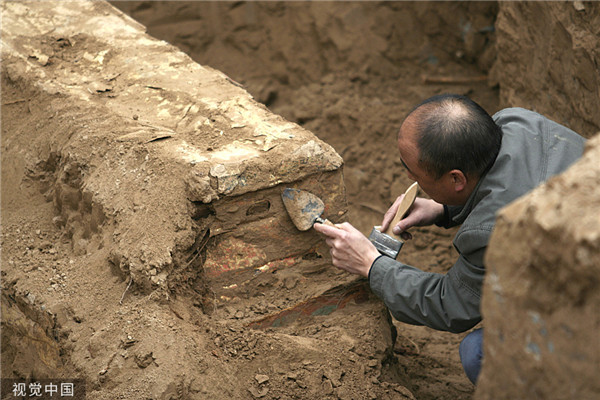 [Photo/VCG]
A well-preserved tomb dating back to the Tang Dynasty (618-907) has been found in Northwest China's Gansu province, local authorities said.
According to the Gansu Institute of Cultural Relics and Archaeology, the tomb was discovered on a mountain in Chashan village, Tianzhu Tibetan autonomous county.
It is a tomb of a royal lineage from the early and middle Tang Dynasty, according to the institute.
The brick-chambered tomb has a 17.5-meter-long passage, where archeologists have found wood objects, ink painted bricks and remains of sacrificial animals.
Over 70 sets of painted pottery and wooden figures were discovered in the niches. Archeologists also found more than 220 articles including painted pottery, lacquer wood, stone, bronze, gold and silver objects.
The tomb provides rich research materials on the ancient Silk Road, and is important for studying the history of ethnic groups, transportation and culture along the ancient Silk Road in the Tang Dynasty, said Chen Guoke, deputy dean of the institute.