Canton ceramics: Treasures glittering on the Maritime Silk Road
Today's Guangdong is anything but a ceramic center known to the world. However, in imperial China after the Tang Dynasty (618-907), whether rulers supported or suppressed overseas trade Guangdong was a hub of ceramic production and exportation, and its capital city of Guangzhou was an important - for some time the sole - port of China.
According to archaeological data, there used to be hundreds of kilns in Guangdong province. Tightly packed ceramic wares fired or processed there were carried by ships across the turbulent sea along the Maritime Silk Road - a nautical trade network connecting China with southeastern Asia, Africa, and Europe ever since the first century. The road thrived in the Age of Exploration (late 15th - early 18th century) when new sea routes were discovered by the Europeans.
Xicun Kiln Ware
The kiln is named after the village where it was located. Most of its products were meant for export. At first firing stoneware in the late Tang Dynasty, the kiln flourished in the Five Dynasties (907-960) and the ensuing Northern Song Dynasty (960-1127).
It produced a wide spectrum of stoneware, all of which had a white clay body. Bluish-white was the primary glaze color of Xicun ware, while beige, black, brown, and dark reddish brown were also common.
Big bluish-white glazed bowl with incised phoenix motif and brown specks, Xicun ware, Song Dynasty,
collection of the Palace Museum [Photo/dpm.org.cn]
Phoenix-head pots (fengtou hu) and big-size broken-profile rimmed dishes with carved floral design (kehua zheyan dapan) are the two most distinguished types of Xicun ware, which includes other vessels in diverse shapes.
Bluish-white phoenix-head ewer, Xicun ware, Song Dynasty,
collection of the Palace Museum [Photo/dpm.org.cn]
Xicun ware also shows debts to other kiln ware styles: the celadon bowl applied with interlacing chrysanthemum design was apparently influenced by the Yaozhou Kiln ware in Shaanxi province. The bluish-white glazed stoneware was exported in large quantities in the Song Dynasty (960-1279), and Xicun ware has been unearthed at ancient sites in some Southeast Asian countries.
Chaozhou Kiln Ware
The Chaozhou Kiln site is located in the present-day Chaoan county, which belonged to Chaozhou Prefecture in the Tang and Song dynasties (618-1279).
The kiln was initiated in the Tang Dynasty and declined through the Song Dynasty and into the Yuan Dynasty (1271-1368). Its main products were bluish-white, celadon, black, and yellow glazed stoneware, in such shapes as bowls, plates, dishes, cups, bottles, pots, incense burners, ewers, and jars. The color and thickness of the clay body varied in different historical periods: the Tang Dynasty Chaozhou ware is characterized by gray or grayish-white thick clay bodies, while the Song and Yuan dynasties produced finer clay bodies in white, gray, or dark gray. The glaze is thinner, with cracks formed on the surface.
White glazed junket shaped jar with for loop handles, Chaozhou ware, Northern Song Dynasty,
collection of Guangdong Museum [Photo/gdmuseum.com]
White glazed statuette of Avalokitesvara, Chaozhou ware, Ming Dynasty,
collection of Guangdong Museum [Photo/gdmuseum.com]
Shiwan Kiln Ware
Located at today's Shiwan Town of Foshan, Guangdong province, the Kiln was a folk-kiln in the Ming and Qing dynasties (1638-1911). It started firing in the Song Dynasty (some archaeologists believe in the Tang Dynasty) and reached its apogee in the Ming and Qing periods.
"Kingfisher-feature" blue glazed zun vessel with double ears, Shiwan ware,
Ming Dynasty, collection of Guangdong Museum [Photo/gdmuseum.com]
Shiwan ware is known for its imitation of Jun Kiln ware, visually similar but chemically different in glaze. The Jun Kiln was located in present-day Henan province, and enjoyed tremendous popularity and high esteem during China's Song Dynasty. The best imitations were those in blue, rose purple, and kingfisher-feather (cuimao) blue glaze.
Ginger cat, Shiwan ware, Qing Dynasty, collection of Guangdong Museum
[Photo/gdmuseum.com]
One of the Shiwan pottery masters, Liu Zuochao (1890-1933), excelled at sculpting human figurines. This sculpture bears his name mark "Crafted by Zuochao" at the bottom beside the trade mark of the ceramic shop "Liu Sheng's".
Statuette of monk reading a book by Liu Zuochao, Shiwan ware,
collection of Guangdong Museum [Photo/gdmuseum.com]
The Shiwan Kiln product also played in important role in architectural decoration. Color glazed tiles and roof-edge decorative figurines are found at a number of heritage sites in south China, as well as historical monasteries and ancestral temples in Southeast Asian countries and regions, such as Singapore, Vietnam, Thailand, Myanmar, and Malaysia.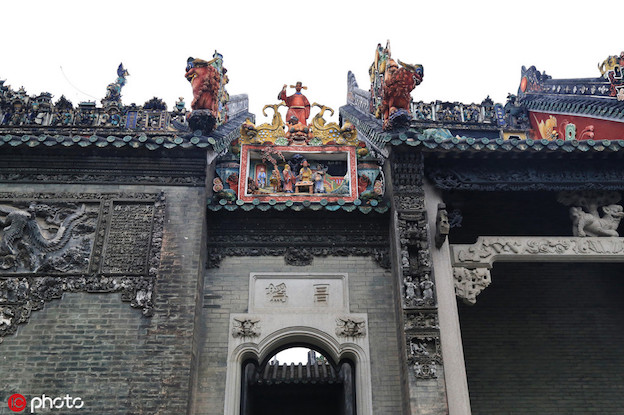 Glazed tiles and roof-edge decorative statuettes at the Ancestral Shrine of the Chen Family
[Photo/IC]
A piece of glazed roof-edge decoration manufactured at the Shiwan Kiln [Photo/IC]
Canton Porcelain
Canton porcelain is the short name of over-glaze color porcelain processed in Guangzhou, Guangdong province. Otherwise known as Guangdong polychrome porcelain or Guangzhou polychrome porcelain with golden paint, it is a signature handicraft art involving color paints against a white glaze background. The white glazed porcelain vessels, as semi-finished products, were fired at the Jingdezhen Kiln before they were shipped to Guangzhou, where they were decorated with colored paints and re-fired.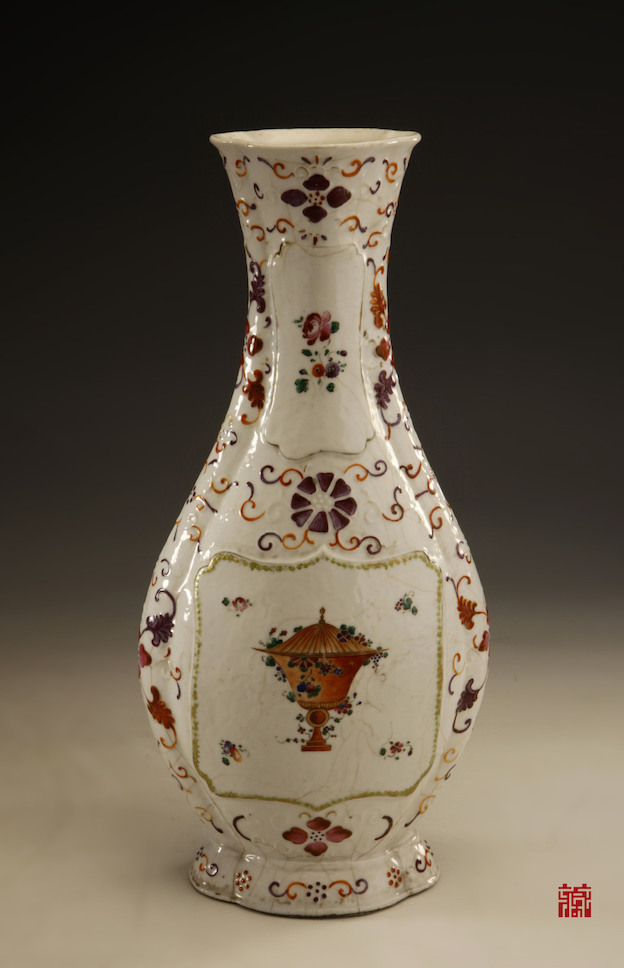 Lobed vase with trophy and floral design, Canton porcelain, Qing Dynasty,
collection of Guangdong Museum [Photo/gdmuseum.com]
Time-honored Canton porcelain enjoys a history of over 300 years. Its manufacturing started in the Kangxi reign (1662-1722) of the Qing Dynasty. Characterized by full composition, exuberant coloration, and golden glitter, a piece of Canton porcelain typically looks as if golden threads have been knitted against white jade.
Ovoid vase with four ladies and two children at a table and an inscription, Canton porcelain,
dated around 1724, collection of the Rijks Museum [Photo/rijksmuseum.nl]
Saucer with a cock on a rock with flowering plants, Canton porcelain, dated around 1724,
collection of the Rijks Museum [Photo/rijksmuseum.nl]
The 'Nanhai One' Shipwreck
The "Nanhai One" was an ancient wooden merchant ship that sank on the Maritime Silk Road while trading with foreign countries in the early Southern Song Dynasty (1127-1279). The ship, fully loaded with Chinese ceramics and other cargo, sank in Guangdong province (the sea area of Taishan City). Discovered in the Yangjiang sea area in 1987, it was the first shipwreck found in Chinese waters. Due to technical challenges and financial shortages, research and salvage of the ship was postponed until 2007.
Ship body of the 'Nanhai One' wreck [Photo/IC]
The "Nanhai One" is the earliest, largest, and best-preserved ocean-going merchant shipwreck discovered in the world to date. The remaining ship body is 21.8 meters long, with 13 large cabins to contain goods.
Excavation site of the 'Nanhai One' shipwreck [Photo/IC]
The salvage took place in 2007 when the Chinese government built a massive steel cage around the vessel to raise it and the surrounding silt. The archaeological finds from the shipwreck provide much-needed information and evidence for reclaiming the history of China's trade with the world along the Maritime Silk Road. The 12th-century ship contains approximately 160,000 artifacts, primarily ceramics produced from such major kilns as the Dehua Kiln and Cizao Kiln in Fujian province, the Longquan Kiln in Zhejiang province, and the Jingdezhen Kiln in Jiangxi province. Many of them are national treasures.
A green glazed plate with stamped floral design, Cizao ware, Southern Song Dynasty,
excavated from the 'Nanhai One' shipwreck, collection of the Maritime Silk Road Museum of Guangdong [Photo/IC]
A white glazed lobed bowl and plate, Southern Song Dynasty, Jingdezhen ware,
excavated from the 'Nanhai One' shipwreck, collection of the National Museum of China [Photo/IC]
A bluish-white glazed bowl with incised flower design, Southern Song Dynasty, Jingdezhen ware,
excavated from the 'Nanhai One' shipwreck, collection of the National Museum of China [Photo/IC]