Tea tourists infuse new life into rural China
2019-4-10 Source:China Daily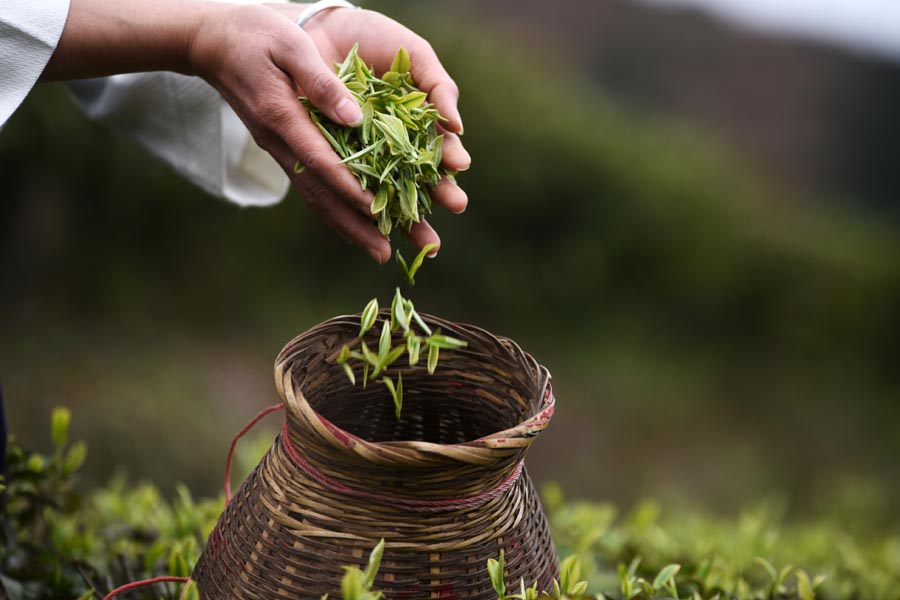 Traditional cultivation, harvesting and sampling of the restorative leaves - as well as their plantations' bucolic locales - is proving to be a draw for the country's city dwellers
Scent from Suzhou for 1,000 years
As one of China's top ten famous tea varieties, biluochun is renowned for its five outstanding characteristics: Its unique shape, fruity fragrance, floral aroma, white feathery appearance and early picking season.
The name of the tea, biluochun, literally means "green snail spring" as it belongs to the category of green tea, with tightly rolled leaves that resemble the look of snail meat, and is harvested in early spring.
Biluochun has a history of more than 1,000 years and was originally produced in the Dongting mountain area near Taihu Lake, Jiangsu province, China's third largest freshwater lake with majestic scenery and abundant agricultural produce.
Originally called Xiasharenxiang, which literally means "scarily fragrant", the tea is said to have been discovered by a nun from the Dongting mountain in spring. As she randomly plucked a few of leaves of the plant and brewed them in spring water, she was surprised by its wonderful scent, blurting out the words "scary fragrance", which then became used by the local people.
The name stuck until the reign of Emperor Kangxi of the Qing Dynasty (1644-1911). During his visit to Taihu Lake, he was so impressed by the aroma of the tea that he decided to give it a more elegant name to match its lingering note on the palate.
Since then, it has become one of the most coveted green tea varieties, favored by the rich and powerful.
The major tea plantation is in Suzhou, Jiangsu province, where the climate and soil are considered the best for the cultivation of the variety. The core production area in the city is around 2,000 hectares.
Ji Xiaoming, secretary of Suzhou's Dongtingshan Tea Association, said that the biluochun trees are grown among fruit trees so that it features a unique natural floral and fruity tone.
"Premium biluochun is sold at 9,000 yuan ($1,340) per kilo," he said. "Some will even be sold as high as 24,000 to 36,000 yuan a kilogram."
Today, biluochun is also planted in Zhejiang and Sichuan province, but the tea leaves are larger and the taste is nuttier.
The best harvesting season for the tea is generally considered to be before the Qingming Festival, making it one of the earliest green tea varieties to hit the market every year. This particular timing is what is believed to give the dry tea leaves a coat of small white "hairs", which is essential for high-grade Biluochun.
Local people pluck only the earliest buds to get the best flavor. For the high-grade biluochun, one kilogram of dry tea requires as many as 14,000 to 15,000 tea shoots, as the buds are so delicate and tender.
Biluochun is usually brewed two or three times, with different aroma and taste each time and since the tea-making process does not include a fermentation procedure, biluochun maintains its natural antioxidants.