Decoding ancient times
2019-3-27 Source:Chinadaily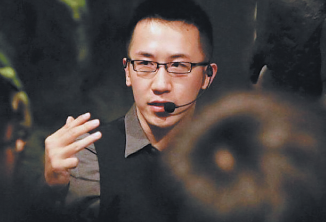 A tour guide at the National Museum of China is becoming popular through his approach to artifacts, Wang Ru reports.
People listen carefully to a tall man as he introduces ancient China to them-and they occasionally burst into laughter.
As a tour guide at the National Museum of China, Yuan Shuo has become popular since he started providing knowledge about the exhibits in his own style, under the online name "Hesenbao". Yuan has more than 3.84 million followers on Sina Weibo, China's Twitter-like platform, and he has presented four paid lectures on Zhihu, a Chinese knowledge-sharing website, with one such talk attracting 8,470 people.
Yuan, who is responsible for telling museum visitors about the political, economic, cultural, military, diplomatic and scientific aspects of ancient China, says he wants to communicate a "real feeling of that history", which is why he wants to explain things, including cultural elements, in a scientific way.
For example, while explaining the custom among some ethnic groups during the Southern and Northern Dynasties (420-581), where a woman usually married her husband's brother if her husband died, Yuan says he uses more contextual references than putting one cultural view against the other, or the common argument of the "lack of morality".
Yuan, 31, cites an explanation by Gao Kai, a professor at Zhengzhou University in Central China's Henan province.
"Gao found out that due to geographical conditions in the places where the ethnic groups lived, people didn't have enough zinc in their diets, which led to high death rates of pregnant women. As a result, any healthy woman who could give birth was viewed as precious to a family. Therefore, the custom was developed to carry on the family line," Yuan says.
"By explaining the problem in a scientific way, you can hit the nail on its head. People can do research to find out the impact of zinc on human embryo and either prove or disprove this explanation."
Yuan, who started to learn fist-fighting in childhood, says "you must show real competence in fighting and any virtual thing is of no use". He says he believes that experience influenced his opinion of history and he does not like "mystical and empty explanations of cultural phenomenons" as well, and would rather use reason for any explanation.
"I believe science is the grounding of all culture," says Yuan.
A netizen who goes by the name "Xiajingxi" on China's popular entertainment review site, Douban, writes that Yuan's commentary-both impressive and amusing-triggered her interest in the liberal arts. Yuan brings out in the open the knowledge stored inside museums, says another Zhihu user.
Yuan chose to be a museum guide out of interest even though he graduated with a computer major in 2011. He still remembers the moment that year, when he received a call from the National Museum of China to tell him that he had been recruited. "It was a time when my life changed."
He started to inject scientific knowledge into his commentary when he tried to memorize the original commentary provided by the museum. But it was not recognized by many people at first. Then his commenting style started to attract more listeners and won the support of the museum administration.
In 2016, he began to write articles on Zhihu and gained further popularity. In 2017, he made an online video, in which he spoke of the evolution of human beings. He has also been invited to take part in some TV programs and his first book has been published recently.
Speaking about how to prepare for his job, Yuan says he reads a lot of books, listens to lectures and consults experts so as to gain information on topics, then he tends to deliver what impresses him the most. He pays a lot of attention to the source of information to ensure reliability, he adds.
"I choose information that is written by experts in professional literature or books. And when using it, I tell people who wrote it and where I found it," says Yuan.
"Sometimes when a topic is controversial, I try to present all mainstream opinions on it-and people can choose which one they would like to believe."
Although Yuan may do more things in the future, he views himself mainly as a commentator.
"I would like to continue as someone who spreads culture to the general public," he says. "I transform abstruse academic studies to relatively demotic knowledge."