Legend with innovative treatment enchants millions
Source: China Daily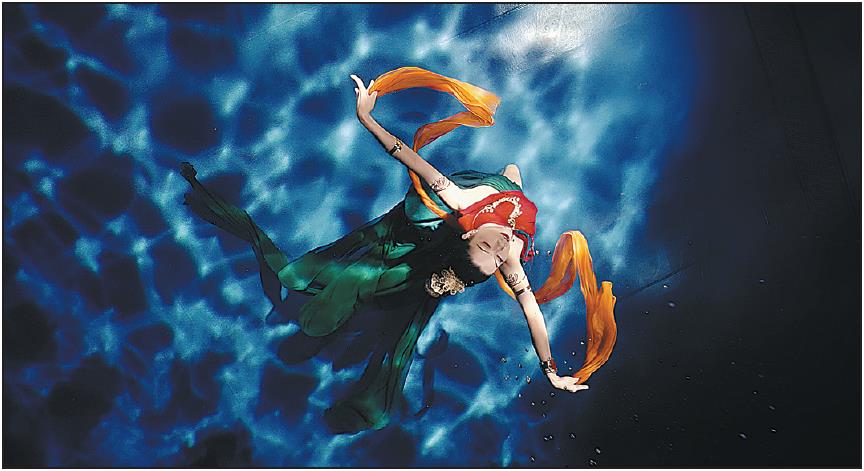 The Goddess of the Luo River comes alive in a video titled Rhapsody on the Luo River Goddess, which was shared by Henan TV Station on social media platform Sina Weibo on June 12. It went viral and has been viewed more than 20 million times. [Photo provided to China Daily]
An ancient and legendary tale of romance is given a new setting and still provides enthralling viewing for a modern audience. In a manner of speaking, it is not of this world. Fittingly for a legend, it is not constrained by the normal forces of gravity, nor will it be impeded by the weather. The alluring tale is portrayed in what seems like slow motion.
Ode to the Goddess of the Luo River, a signature work by Cao Zhi, the son of Cao Cao, a warlord of the Eastern Han Dynasty (25-220), tells the story of the son's enchantment with the goddess of the Luo River. She is believed to be the daughter of emperor Fuxi of prehistoric legend, who became a nymph after drowning in the river, a tributary of the mighty Yellow River.
Her story has been the inspiration for countless contemporary artists, who have portrayed the goddess of peerless beauty through various art forms, like movies and dance dramas.
On June 12, the Goddess of the Luo River came alive in a video shared by Henan TV Station on social media platform Sina Weibo. Not surprisingly, it went viral and has been viewed more than 20 million times.
But the reason the video, which runs for around two minutes and is titled Rhapsody on the Luo River Goddess, created such an impression and has generated such a wave of publicity, is that it was shot underwater. He Haohao plays the role of goddess. She masters not only her art but the technique of holding her breath as her lungs struggle to carry out their function. All this is done with the most serene expression.
The tale captures the enchanting appeal of that ancient Chinese goddess, who was described as "elegant as a startled swan goose and supple as a swimming dragon" by Cao Zhi.
"The performance is amazing and almost dreamlike. It brings a flying fairy alive vividly," one viewer writes on Sina Weibo.
"The combination of underwater cinematography and traditional Chinese dance is so beautiful, which enables viewers to appreciate traditional Chinese culture in a fresh way," another viewer writes.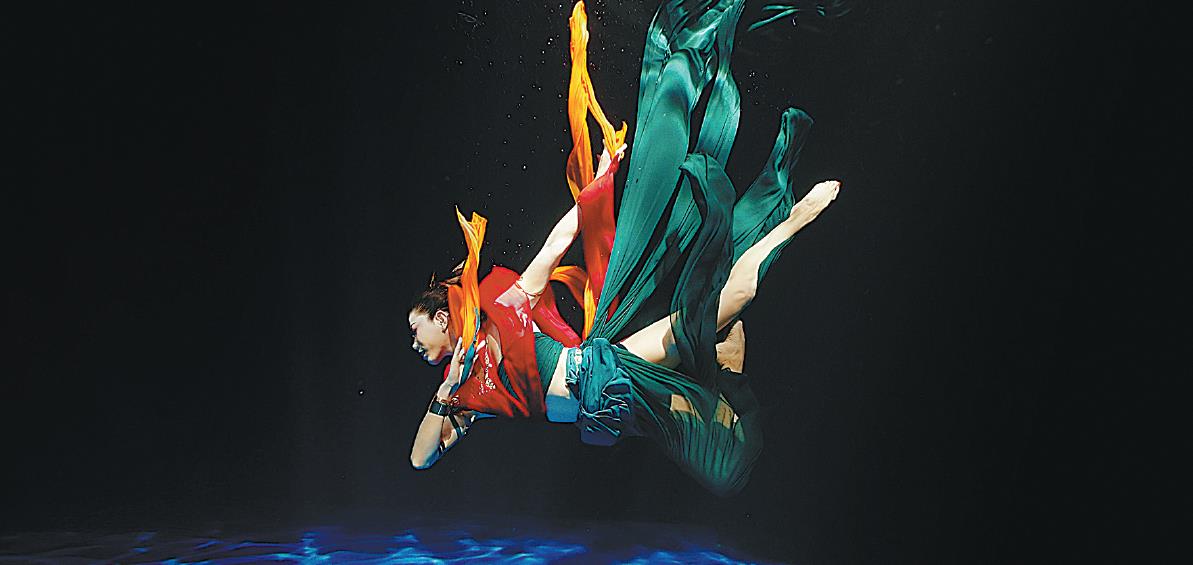 The Goddess of the Luo River comes alive in a video titled Rhapsody on the Luo River Goddess, which was shared by Henan TV Station on social media platform Sina Weibo on June 12. It went viral and has been viewed more than 20 million times. [Photo provided to China Daily]
After He was invited to play the role, she read a number of books about ancient Chinese goddesses and was inspired by flying fairies portrayed in the mural paintings of the Mogao Grottoes in Dunhuang city, Gansu province.
"I am always interested in traditional Chinese culture and I am happy to share the beauty of it with my performance. In weightlessness, my body blends with the waves under the water, which easily presents the image of an elegant and flying goddess," says He. "The choreography not only showcases the beauty of the goddess but also her power.
"I have to move very gently, very softly and gracefully in the water, which is not easy," she adds.
To control buoyancy, He wears on specially adapted weights of about 10 kilograms to help her stay submerged. She also tied fishing lines to her costumes to prevent the material from becoming entangled under water.
Without the use of breathing apparatus, she took a large gulp of air before entering the water.
"It took the team about 20 seconds to fix my long robes in the water, which are made of silky cloth. The longest piece of cloth is about six meters. Then I danced in the water and held my breath for another 20 to 40 seconds. We repeated that process many times," says He, adding that she cannot remember how many times she returned to the water. "We spent about eight hours in the water during the production."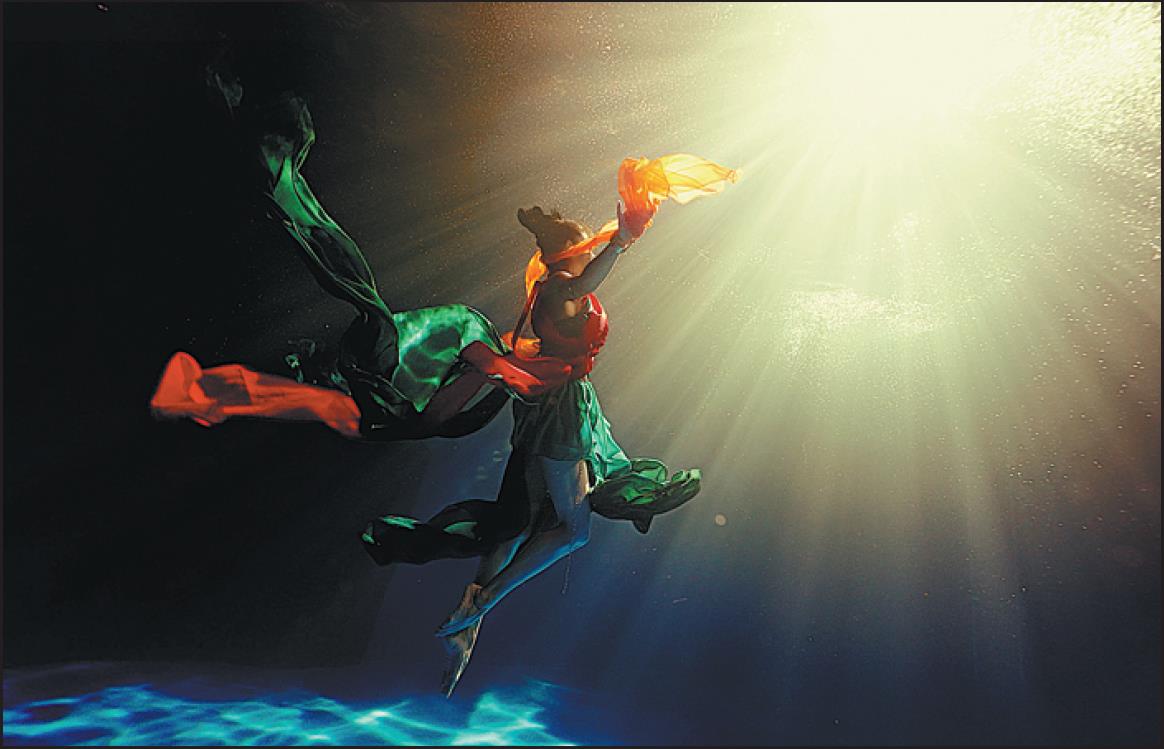 The Goddess of the Luo River comes alive in a video titled Rhapsody on the Luo River Goddess, which was shared by Henan TV Station on social media platform Sina Weibo on June 12. It went viral and has been viewed more than 20 million times. [Photo provided to China Daily]
The 30-year-old, who was born and raised in Guangzhou, Guangdong province, learned to swim at the age of 6 and, when she turned 8, began training to become a synchronized swimmer. She has won national swimming awards and was selected to join in the provincial synchronized swimming team of Guangzhou at 18.
Though she later decided to quit her athletic career and graduated from Guangzhou University with a major in journalism, He has never stopped pushing boundaries underwater.
She took various jobs, including mermaid performer and underwater model. In 2016, she starred in Hong Kong director-actor Stephen Chow's movie, The Mermaid, as the stunt double for lead actress Lin Yun, which won her widespread acclaim.
"It took me a long time to control my body and my facial expression while dancing underwater. It's a beautiful art form though not many people knew about it when I first started to practice," says He, adding that she learned a variety of dances, such as traditional Chinese, ballet and street, which she combines in her underwater performances.
Rhapsody on the Luo River Goddess received incredible and warm feedback, not only from viewers but also from her parents, who once were doubtful about their daughter's career.
"They shared with me lots of positive feedback they received from their friends and comments they read online," says He. "I was very excited and proud when my idol, Foreign Ministry spokeswoman Hua Chunying, shared my video on her social media platform. It's great encouragement."
It's not the first time that Henan TV Station has gained attention with its captivating videos highlighting traditional Chinese culture.
On Feb 13, a dance piece, titled A Tang Dynasty Banquet, which is less than six minutes long, was staged during a gala aired on Henan TV Station to mark Spring Festival, and has since gone viral on social media, and been viewed more than 500 million times.
According to director Guo Jiyong, his team was invited by Henan TV Station to create an underwater video to mark the occasion of the Dragon Boat Festival, or Duanwu Festival, which fell on June 14 this year.
The history of the festival dates back to the Warring States Period (475-221 BC) and the most widely known story of Duanwu in China is that it was started to commemorate Qu Yuan, a patriotic official who committed suicide on the fifth day of the fifth lunar month. People rowed boats to attempt a rescue. They threw sticky rice dumplings into the river so that fish would not eat his body.
"I've watched the video of A Tang Dynasty Banquet and I love the way traditional Chinese culture is presented to a contemporary audience," says Guo, who, along with his team, spent 26 hours over three days underwater filming the Rhapsody on the Luo River Goddess video.
"With streaks of daylight piercing the deep blue water, the colors change as He Haohao dives deeper and dances like a flying fairy, which is very beautiful. Those images are stunning," he says.
Born and brought up in Jiangsu province, Guo, 36, graduated from Nanjing Forestry University with a major in landscape design. Guo's love for street dance, formed during his time there, enabled him to have a deep sense of, and attachment to, choreography.
In 2011, he fell in love with diving and in 2017, Guo launched a career in underwater photography, which took him around the world.
"I realized that diving can also be a way to discover magical underwater places. I want to capture those places with my camera and share them with more people," says Guo.
Seen in the context of the coronavirus pandemic, he started to focus on combining underwater photography with elements of traditional Chinese culture.
"The purpose behind all of my work is to help people see how beautiful Chinese culture truly is. Presenting it underwater in this way offers a fresh perspective," he says.