Battles in Shanghai | Troops and the city
2019-3-14 Source: Chinadaily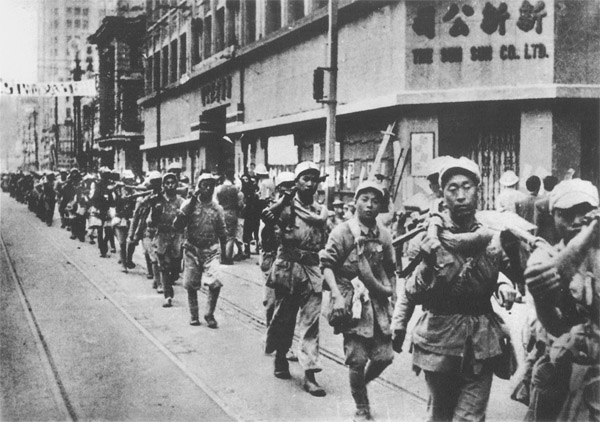 A photo from Battles in Shanghai, a book written by military writer Liu Tong, shows PLA soldiers entering the city in May 1949. The soldiers slept and ate on the streets when they first arrived in the city. [Photo provided to China Daily]
Book presents a panoramic view of the Party-led takeover of Shanghai in 1949, Mei Jia reports.
Before Communist troops were to take over Shanghai from Kuomintang rule in 1949, a brochure was printed, offering 15 lessons of "things you need to know about city life".
Shanghai then had a population of 6 million and was the largest city in Asia. It was the industrial and commercial center of China. And when leaders of the Communist Party of China realized that Shanghai might be the place where many of the soldiers would get their first urban experience, they released guidelines that were thought necessary for the troops to stay disciplined.
Following the "countryside to cities" route of revolution for almost 30 years, many of the soldiers at the time were not familiar with city life.
Previously, when an army unit seized Hangzhou, now capital of Zhejiang province, there were reports about broken water taps, waste of pipe water (records show 82 percent of Shanghai residents got their supply from tap water back then) and missing electric bulbs.
On May 10 that year, when preparing for taking over Shanghai in the nearby Danyang township, Chen Yi, later New China's first mayor of Shanghai, held a meeting to promote discipline.
"Being well-behaved and disciplined is the first present we gift the Shanghai people, who have high expectations of us," Chen said, according to the Selected Works of Chen Yi on Military, published by the People's Liberation Army Press in the 1990s.
He asked the soldiers to learn about urban life. The political department of the PLA Third Field Army compiled the brochure, informing the troops about Shanghai residents and their employment, as well as how to use public transportation, how to cross big roads or use water, electricity and gas appliances.
In addition, information was given about unemployed people and people involved in the sex trade or petty crime.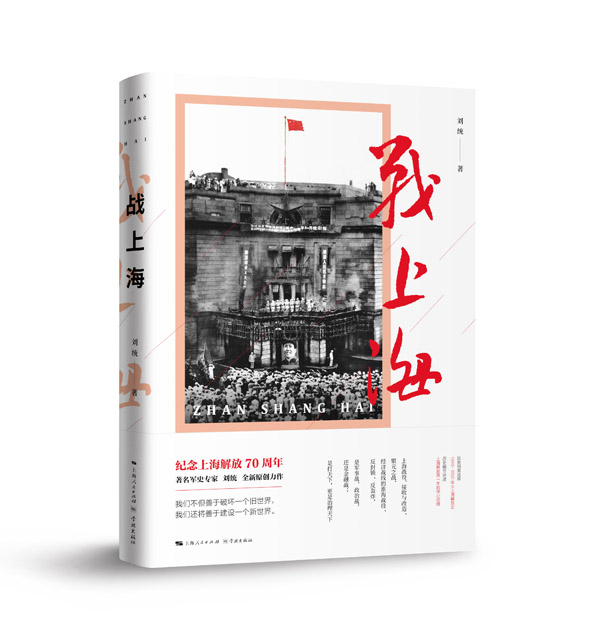 Battles in Shanghai [Photo provided to China Daily]
Chen asked the army not to take civilian houses as accommodation. Old photos, as well as memoirs show that during the first days PLA soldiers reached the city, they slept and ate on the streets, dressed in uniform.
Liu Tong, a professor at Shanghai Jiao Tong University and a military writer who focuses on history and famous battles, has written a book that offers an insight into how the city was run by the Party from May 1949 to May 1950.
With some 100 photos, maps and operational plans, Battles in Shanghai (Zhan Shanghai) features not only the historic military campaign, but a more panoramic account of how the economy and social order were restored, and how threats from Kuomintang were dispelled. A movie of the same title was released in 1959 to record the military triumph.
Liu is looking at the overall picture in his book, he says.
"I planned the book as a tribute to the 70th anniversary of the establishment of New China as well as the liberation of Shanghai," Liu says.
But because he was "puzzled by multiple threads when doing research for the book", he says he tried to arrange the material from Chen's perspective, asking "what are the things needed to be tackled and defeated one by one?"
Liu says what Chen faced was a city paralyzed by war, where the treasury was empty and millions were waiting to be fed.
At the time the international community was doubtful about what the Party could achieve for Shanghai, which was a new challenge and one far different from its previous tasks.
Liu retrieved many historical records and quotes freely from them in the book, "because the original words best show how the Party adapted to city life swiftly and presented solutions to surging problems in a timely manner".
His admiration for the Party grew as he proceeded with the book, Liu says.
"They were thorough and austere, well-organized and well-disciplined, and kept a warm heart to serve the people, which is a precious spiritual asset of the country.
"They were good at correcting errors and learning from past experiences," he adds.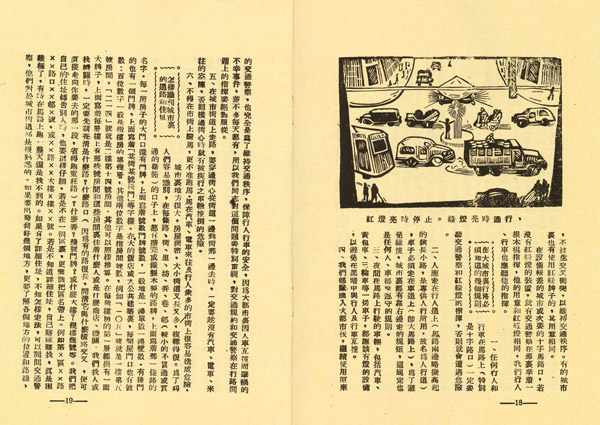 Two pages from a 1949 brochure teaching PLA soldiers about urban life. Copies of it will be given out with the book Battles in Shanghai at promotional events. [Photo provided to China Daily]
From managing and governing Shanghai, the Party accumulated urban experience, especially about the economy, which became the foundation of the country's financial policies and regulations.
Liu notes good management also relied on borrowing ideas from professionals and experts, and dealing tactfully with expats and people from different classes.
Liu says the strong personalities of Party members stand out in these historical accounts. And he tried to bring them to life with his words, while keeping them factual and precise.
The brochure was discovered during his research. More information about it and its extracts are seen in chapter one of Liu's book. His publishers, Shanghai People's Publishing House and Xuelin Press, also found the brochure at the Shanghai Library and reprinted copies of them to give out for free with the book at promotional events.
The book was released on Dec 26 and has since sold out. A reprint is in the pipeline. The publishers held a symposium on Feb 27 in Beijing to discuss the book from the perspective of writing on Party history.
"The book sets a nice beginning as we look back over the past 70 years to examine and summarize our gains and losses to make the future better," says Li Zhongjie, former deputy chief of the Party History Research Center of the CPC Central Committee.
Li says details of real-life stories have enhanced Liu's storytelling.
"The story in Shanghai tells the world the Party and the Chinese people will run their country well," Li says.
As chairman Mao Zedong once said: "We're not only good at breaking down an old world, we're also good at constructing a new world."